Home Office Interior: What You Need to Remember
3 years ago
2 minutes
in Blog
The perfect home office interior is a dream come true. Not only does it help with your productivity, it has a calming aura as well. Compartmentalising your professional & personal space can help you work better. You can achieve this with glass partitions.
Glass partitions can sufficiently diffuse any harsh light, and also provide a sense of professionalism. Make sure your home-office is free from any clutter, and go for an elegant, minimalist design as it can help you focus better. Avoid harsh fluorescent lighting. You can get a lamp that gives a diffused light, as it will keep headaches and distractions at bay.
Designate a fixed space for your home office. This could be a separate room in itself or a space in your common area. Complement this with an ergonomic chair, a big screen, and comfortable gear to get you all set. This will avoid any distractions, and help you get into your work-mode in a jiffy.
Also, make sure to organize your resources. Everything you need frequently should be easily available, so that you don't have to go about your house hunting for it. Keep important documents and stationery within your reach. Set your workspace up near a window. This will allow natural light to work its charm.
Avoid any location that will remind you about pending household tasks. Great lighting will also help conduct better meetings, and motivate you to work. The combination of natural light and glass partitions can give you a feel of a large space, keeping you in your 'productivity' mode.
Use closed storage that is close by. Baskets and bins help organize paperwork and declutter your desk. Your paperwork is all stowed up in them, and this keeps you mentally focused and prepared for the day.
Personal touches are a great way to enliven your workspace. Add bright and colorful elements to jazz up the ambiance. Another way to personalize it is by adding a touch of green. Potted plants will keep your environment fresh, and add a positive vibe to your office.
Go for light and subtle tones, as they will boost your creativity. Hanging a piece of art or craft can help keep your spirits high through the course of the day. These could be brightly colored paintings or anything of that sort to keep you cheery.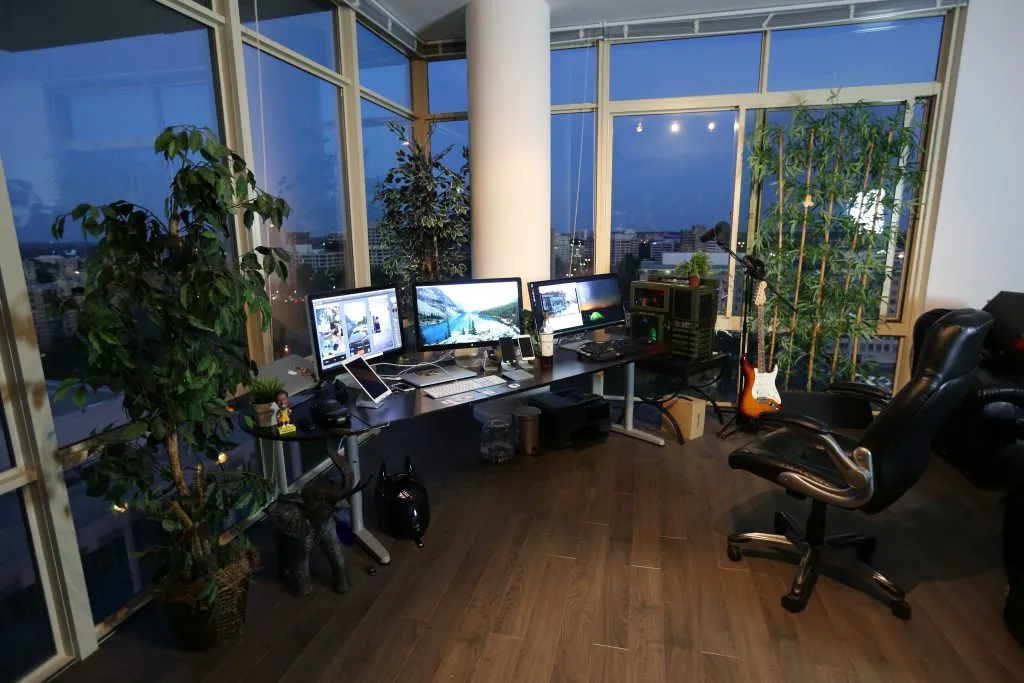 If you are unable to get proper natural light, go for desk which gives a bright light that isn't too harsh. Natural sunlight lamps can keep you refreshed throughout the day. The right home-office interior will help you achieve better productivity at home, and it is not as tough to set up as you might think.
The right combination of light, separation, and a distraction-free environment, along with some well-thought-out decor can keep you in your best form. Make sure to get out of the work-mode and unwind after your hours are done!