The Significance of Proper Lighting in Commercial Space
3 years ago
3 minutes
in Blog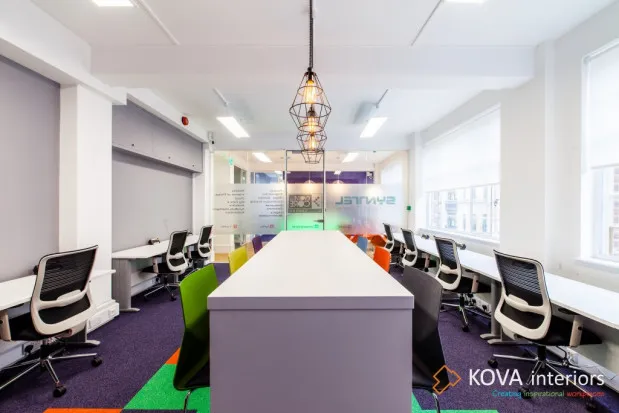 Lighting is one of the most fundamental aspects in making an office space to be functional, inspiring and comfortable. Whether there's an insufficient lighting for your employees, too much glare, flicker, improper contrast or poor light distribution can impact on your employee's experience in the office space. Here are a few reasons why proper lighting is important for commercial fit out London:
Employee well-being
The main reason behind using proper lighting is the wellbeing of your employees. The poor lighting can greatly impact on your health, leading to eye strain, headaches, neck pain, etc. Harsh glare can result in migraines and distractions in sleep.
With all these health risks in mind, it's necessary for your office space to be lit perfectly to make sure that your employee's well-being is proper shape. Enough natural light is a must; but it's important to ensure areas away from windows are effectively lit to minimize eye strain without any glare or flicker that could affect other issues.
Productivity
Lighting drives productivity in the workstation. It plays a key role in circadian rhythms, which create a great sense of routine and balance throughout the day. Perfectly-lit workspaces enhance the wakefulness of employees, helping them to focus on their responsibilities. As discussed above, well-lit workstations minimize absences and illnesses among employees – which is another bonus for productivity.
Mood improvement
Perfectly-lit office spaces help you improve employee's mood and workspace satisfaction. Happy employees stay motivated, making sure that a positive workspace environment is paramount in improving office productivity.
However, the clear and bright light boost moods and motivation levels of employees whereas ill-lit lights can make them feel dull. Dim lighting can make sure you have low moods; while bright lights bring in therapeutic and biological benefits.
Minimized risk related to health and safety
This is the reason why lighting is important for your office. Poor lighting systems lead to health and safety risks, making it quite stressful for employees to see what they're doing when at work. This is especially significant in office or businesses that need precision work, when it's about designing buildings, assembling components or machinery operations. However, the absence of light would be a safety hazard in a work environment; but the dimness and glare can make visual interference that could lead to mistakes.
Workspace ambience and aesthetics
Last not but the least, lighting is a basic tool of any commercial office fit out London for its aesthetic value. Lighting is an amazing way to improve the ambience of work area, whether its bright lighting in a meeting room equipped with bright and youthful décor to reflect your innovative brand. Otherwise, you can go for softer or warmer lamps in a break-out space to create an ambience of leisure and comfort.
Bottom Line –
Do you feel that your office could get benefited from lighting during your commercial fit out in London? You should always work with KOVA Interiors. We work with our client's unique vision to create a perfectly-lit and beautifully-designed space that will make your employees happy, motivated, and contented. Feel free to contact us today, if you really need help with commercial fit out in London!