Office fit
out London
With over a decade of experience delivering fit-out projects all over London, our expertise has given our clients peace of mind. We provide regular updates at each project stage and ensure a smooth handover.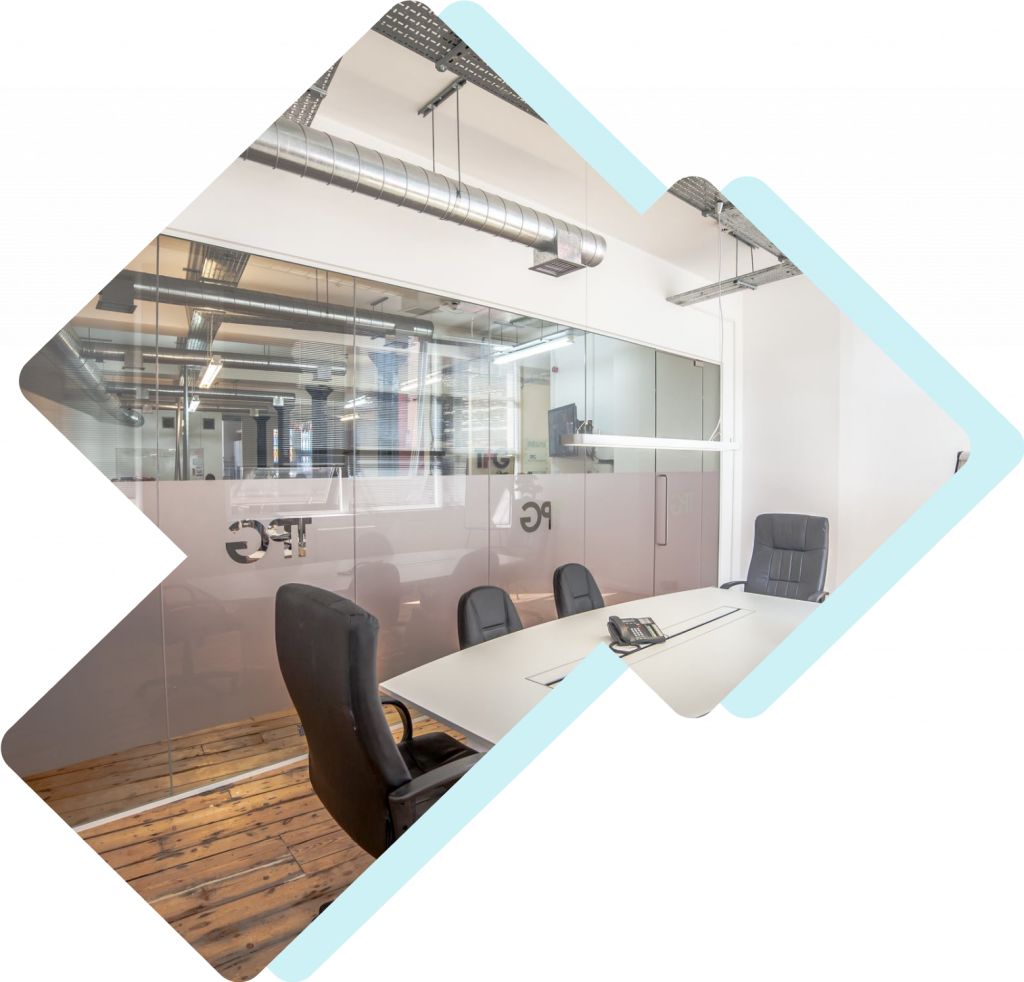 Workplace comfort is the key to your team's productivity
Studies show that the working environment plays a significant role in employees' performance in any company. This means a change in your office could lead to even more progression for your business.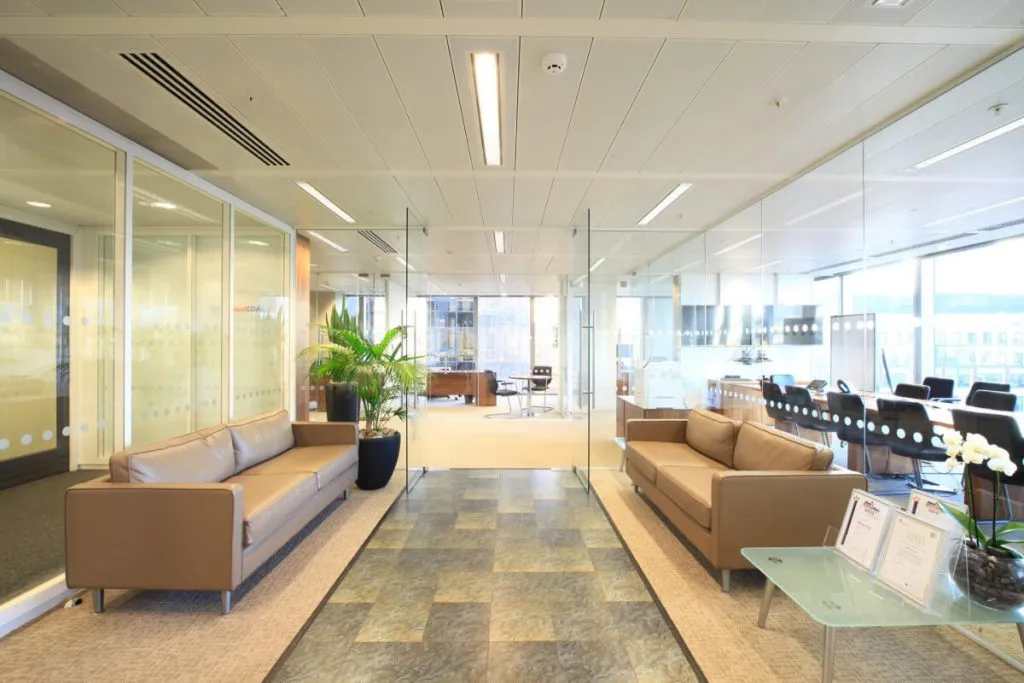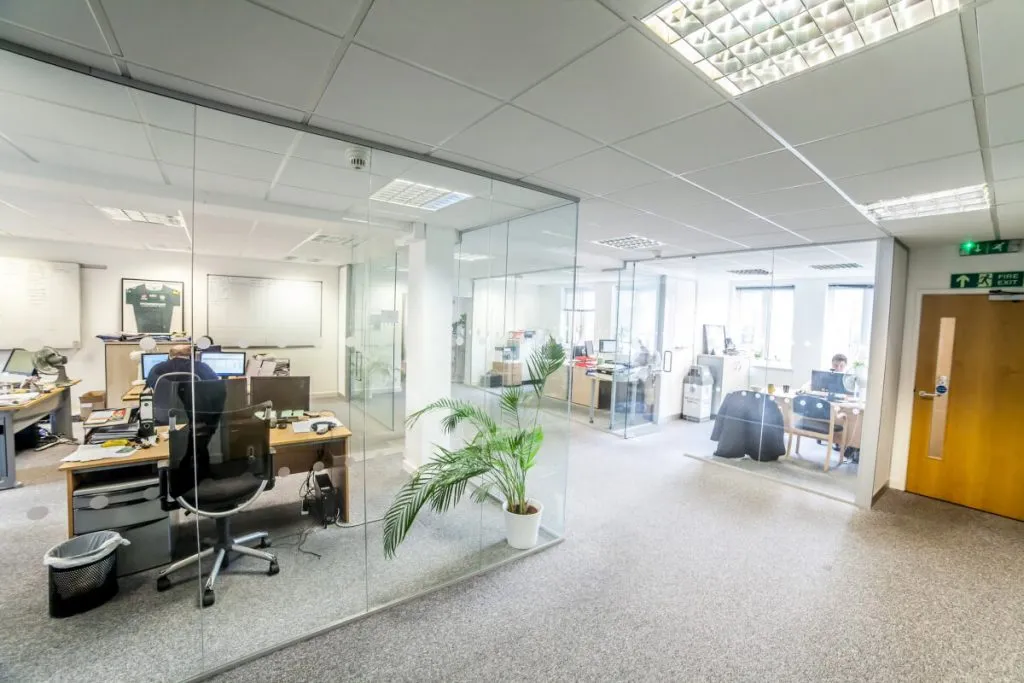 A new level of productivity
Our primary objective is to design work environments that are pleasant and conducive to productivity, elevating your group's spirit to a higher level in the process.
Office fit out process
1
Brief
We listen to your requirements and understand how you want the office to look and, more importantly, how you want the office to work.
2
Concept
At this stage, we provide the inspirational ideas that shape a workplace and create maximum efficiency. There's logic in everything we do, which becomes apparent.
3
3D visualisations
We transform your concepts into 3D visualisations to give you a real sense of your future office space. We create layout drawings to suit your requirements and demonstrate the proposed furniture, finishes and fittings.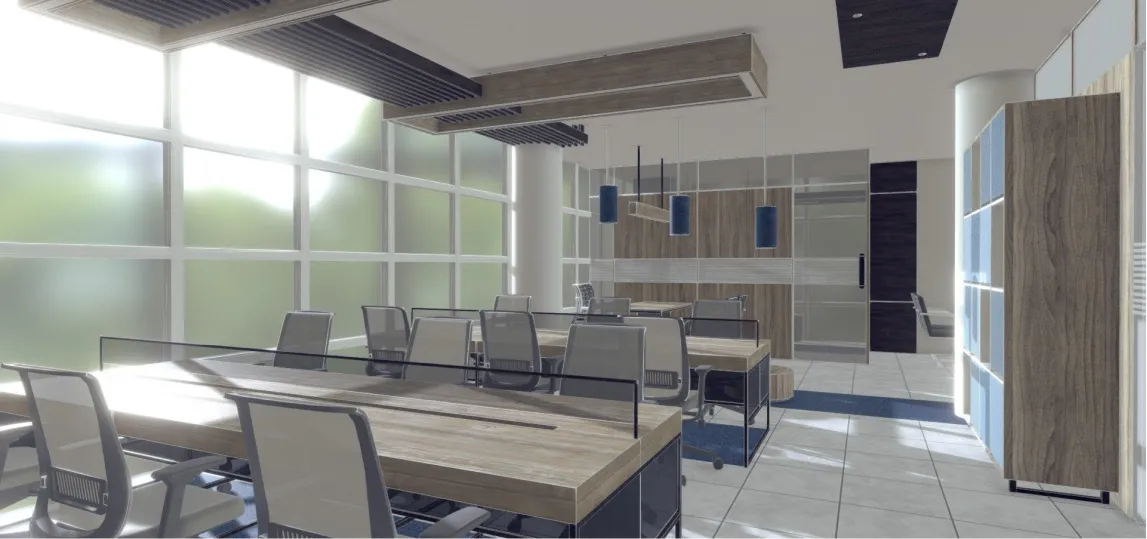 4
Design in Details
We coordinate your agreed design concept with the physical makeup of the property. We ensure that all mechanical and electrical aspects of your building are included in detail in your final design plan.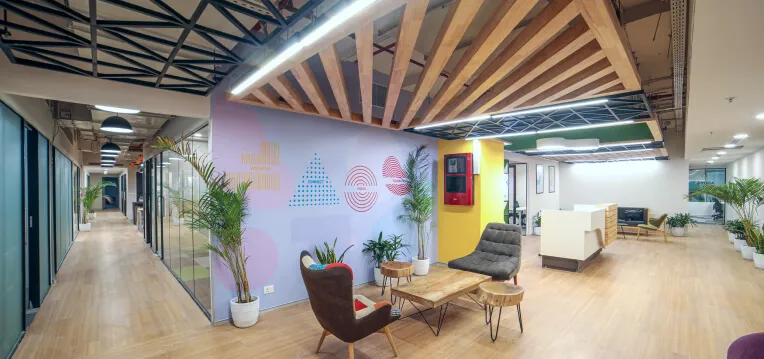 5
Construction
Our design process is agreed with your final programme, with every decision you make embedded into the schedule.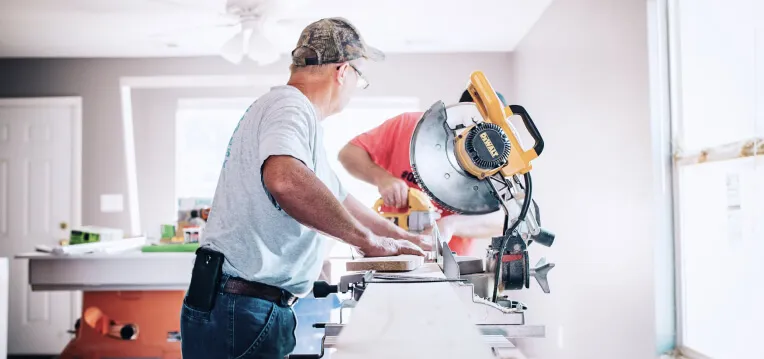 6
Aftercare
Our aftercare service helps your business seamlessly transition into the new working environment and ensures that all possible problems are ironed out quickly.
Increased productivity in the workplace
>We have maintained our association with many customers who are delighted and satisfied with the fit-out and refurbishment projects that we have undertaken for their businesses and have successfully delivered hundreds of commercial office fit-outs.

Office Fit-out categories
Cat A and Cat B office fit-outs are two of the most popular kinds of office fit-outs. The abbreviation "cat" stands for "category," and "cat A" and "cat B" are phrases that are used for the categorisation of fit-out to differentiate the components that are included in each kind of fit-out. The main difference between cat A and cat B is the addition of functional workspace components.
What is the difference between Cat A and B?
Here are cat A and cat B fit-out definitions for your better understanding. The Cat A fit-out is the most fundamental kind of operational fit-out, and it is the one that gives you a completed, empty space that is all set up and ready for you to add a functioning workspace.
Creating a functioning workspace that includes plants, flooring, and furniture is called a Cat B fit-out. This process involves bringing together all of the components of office design.
A team of professionals with over 13 years of extensive knowledge
Interaction with our customers during projects is paramount to our success, which is why we follow a detailed formula that has never failed us. Being one of London's most in-demand commercial office fitouts companies, we know communication is essential to a successful project.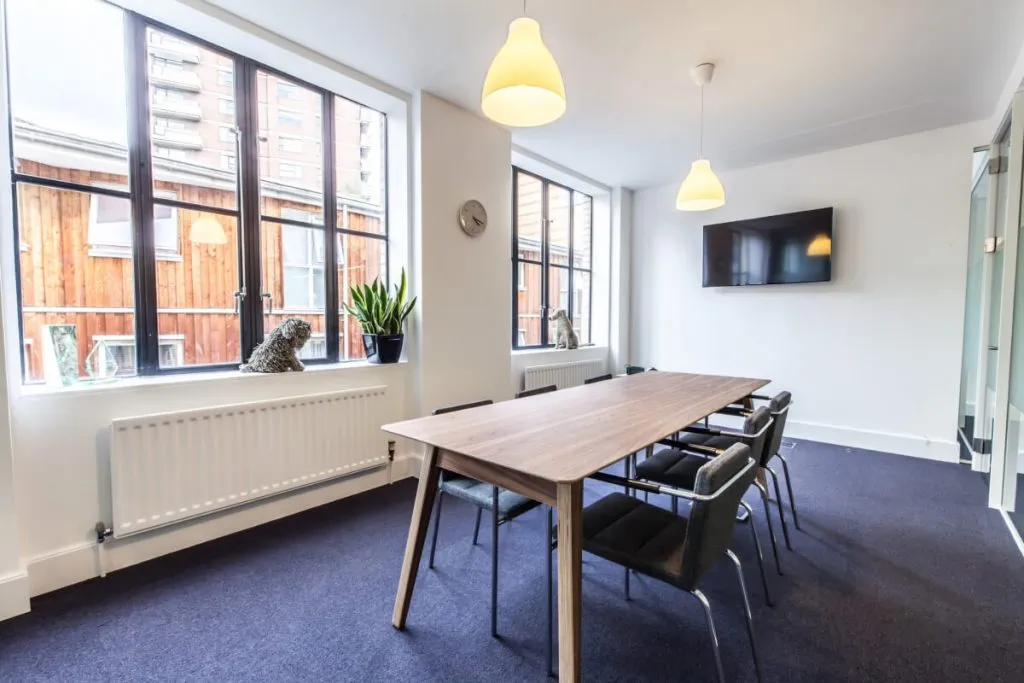 Our experts will help you solve your problem
We have successfully delivered hundreds of commercial office fit-outs. We continue our partnership with many of our clients who were happy and satisfied with the fit-out and refurbishment projects we completed for their companies.
Frequently asked questions
1. How much does an office fit out cost?
3. What does fit out include?
2. How long does an office fit out take?
4. How much does it cost to build a small office?
Customer testimonials
Kova is an interior refurbishment company that offers commercial refurbishment in London and the South-East. We've been delivering inspiring spaces for nearly 12 years, and have helped hundreds of clients with office.
Refurbishment for Très Health & Well-being
Review from the owner of the Tres Health & Well-being clinic. James talks about the timing, quality and result of the work done.
ITN Solicitors Office Fit Out
Reviewed by ITN Solicitors. Anna Dean talks about the timing, quality and results of the work done.
Flos show room fit out from Kova
Review of Flos showroom decoration from the manager of the company Poula
Prospectus
Prospectus appointed Kova interiors to fully refurbish there existing office space to reflect their company's leading role in the HR and recruitment industry.
TPG office refurbishment from KOVA
Feedback from the director of TPG. Marco Caligari talks about the features of his office, the speed and results of Kova's work.
Museums Association Fit Out
Feedback from the General Director of the Association of Museums. Mark Taylor talks about the complexities of their office, the quality and results of Kova's work.
Popular services
Early Years. Brothers, Alex and Dimitri started back in 2000 working in the construction industry, working on sites undertaking partitioning and carpentry work.
COMMERCIAL OFFICE FIT OUT
Traditional office space has developed, with companies looking to increase employee efficiency, attract and retain top professionals, and create an engaging work environment. Interior fit out companies in London are re-evaluating the function of office space. Trends include:
Open space offices
Bench furniture to increase employee density and collaboration
The removal of ceiling systems to increase ceiling heights
Polished concrete floors instead of carpets
High-end lunch spaces fitted with lounge areas and soft seating
Though popular, these trends have presented many functional and operational challenges for commercial fit out companies in London. But, with the development of new technologies, materials and modern design elements, many office interior fit out companies have been able to meet these challenges with innovative solutions. These include:
Noise reduction. Noise is the most common concern, as it might distract employees and affect performance. Strategically placing white noise sound-masking systems and devices can help to limit undesired noise. The other option you can apply when planning an office fitout for your company is to install double-glazed glass office walls with special seals and gaskets, as this can help reduce sound disturbance.
Vibration. If you don't have any wall partitions and suspended ceilings, this could contribute to noticeable vibration from the slab within steel frame structures. When implementing a commercial fitout for your office, we would suggest reinforcing the existing beams, or installing tuned mass dampers, which helps to absorb the vibration.
Infrastructure Issues. Most commercial office buildings were not initially designed for increased employee populations. That is why older buildings in London need an office fit-out, as they don't have a sufficient amount of bathroom plumbing fixtures. London office fit out contractors would offer to redesign bathrooms to accommodate demand.
Operational Impact. Companies are extending office hours from the standard 9am-5pm to help employees find a better work/life balance. This presents new challenges to maintain and operate the work environment in the company. That is why it's important to consider durability when selecting and specifying finish materials and equipment for commercial design. Remember that colors, textures and functionality often fade over time.
Undergoing an office fit out is one of the most challenging aspects of relocating an office, as is finding the best commercial fit out subcontractors. From taking care of project development to space planning, designing, building surveys and fitting out the job itself, there are many elements involved in the process.
But if you choose the right professional office fit out contractor you can reduce many challenges your office is facing right now.
KOVA interiors, being one of the leading office fit out companies in London, brings all these elements together so we can act as your partner. Our office fit out company based in London
has the insight and experience to offer the right kind of guidance and advice to reach a final result that matches your vision, expectations and budget. It's time-consuming to sort through all the options to find the best interior fit out contractors in London, so you can save time now by choosing our office fit out company
Do not hesitate to get in contact with our team should you want more information on how we can help you with your office design and fit out in London. KOVA Interiors is a commercial fit out company that has operated for over 12 years, providing office fit out services and office design for companies based in London.
We have successfully delivered hundreds of commercial office fit outs, and we continue our partnership with many of our clients who were happy and satisfied with the fit out and refurbishment projects we completed for their companies.
Interaction with our customers during projects is paramount to our success, which is why we follow a detailed formula that has never failed us. Being one of the most in-demand office fit out companies in London, we know that communication is the essential component of a successful project.
During your entire fit out project, your project manager will be present on site to ensure that everything runs smoothly. We will take you through the following steps:
COMMERCIAL FIT OUT
A fit-out makes an interior space suitable for business operation. This includes many aspects, such as furnishing, decorating, electrics and mechanics. Commercial fit out companies based in London provide these services.
How can you save money and time for your fit-out? With a turnkey option. Avoid dealing with multiple contractors – instead, communicate with one contact.
"Shell and Core" offers a basic finish, only covering externals such as cladding and building structure.
"Cat A" (typically the landlord or developer undertakes this work) includes the installation of facilities. This type of project might also include some finish and reception but it would be just empty space, allowing it to offer occupants the chance to create their own design and organize the layout according to business needs.
A "Cat B" fit-out is commonly shuffled by the tenant and covers everything from creating different rooms to decorating the walls. These commercial fit-outs integrate the features to make a space functional and create a business identity.
Why should you consider a commercial fit-out:
More opportunities for further business development
Increasing employee satisfaction and productivity
Efficient use of space and resources
Up-to-date technology and improving communication
Creating company identity and refining first impressions
Kova Interiors carries out a range of commercial fit-out projects, including small commercial properties in London with restricted budgets to projects that are on a vast scale. With extensive experience plus a perfect track record, Kova Interiors makes the process stress free.
To begin with, your employees and managers will speak to the designer and project manager in our team, making everyone aware of objectives and needs, and your plans and ideas for your commercial property or office refurbishment. Kova's friendly team will work alongside you, choosing an appropriate fit-out based on your specific requirements.
Once we've evaluated these needs, it's time for you to relax while our experts get to work.
Your office should reflect your company's identity, so you won't find an "off the shelf" office fit out the best option. Our best designers' expertise and talent guarantees that a bespoke design for your office space will embrace your organization culture.
SUSTAINABLE FIT OUT
It is often overlooked that turning an office into an environmentally friendly workspace can have a positive impact on a business' success and employees' productivity. The benefits of being green are not only ethical, but studies show that fresh air and natural light increase morale in the working environment, so much so that people feel inspired and happier; causing them to work more efficiently. This type of productivity boost is often difficult to achieve with other means.
In the past, many non-renewable or harmful materials have been used in office fit outs, but there are now sustainable and less harmful alternatives for the majority of these products. Numerous manufacturers now have environmental management accreditations and product stewardship programs in place.
Such programs ensure that the company sources and supplies its products in an environmentally sound manner, and that a plan is put in place to dispose of the product appropriately when it reaches the end of its use.
If you need any practical advice on how to create and install a sustainable fit out, do not hesitate to contact our team who will be happy to offer their expertise.