What do you need to know to create the hybrid office
2 years ago
in Blog
What do you need to know to create the hybrid office
The practice of working from home has accelerated greatly due to the pandemic, as a result the number of employees with flexible working hours with the option of working from home have soared – and is still on the increase with 85% of working adults (May 2020) preferring a hybrid approach of working at home and office in the UK. With the rise of companies implementing a hybrid work environment, this article will touch on the benefits and challenges of a hybrid workplace.
What is a hybrid office?
Working in the office from 9 to 5 has traditionally been the norm, however studies show that in the past few years the number of office employees working from home in 2020 have increased to 37% on average from 27% in 2019.
The lift on restrictions, people are now moving back into the office part time. The strategy of a hybrid workplace is to maximise functionality and increase productivity. A result of employees going into the office part time, an office with 100 desks can decrease in number to allow space for additional breakout areas. This may include meeting pods, collaborative areas, soft seating, breakout tables, bench seating and more.
Hybrid office does not mean a smaller working space
The decrease in number of employees working in the office does not necessarily mean less space. A recruitment agency we're currently working with in London are reducing their number of desks from 80 to 40 while keeping their existing space. Not only they are saving the hassle of moving offices, but they will also increase productivity by introducing hot desking, a collaboration area and an additional break out area. Working with their operations manager, we helped create a floorplan of the new space to assist on booking employees into the office.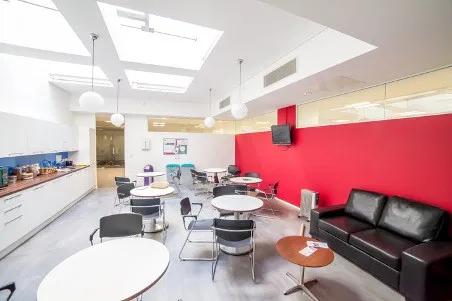 How a hybrid work environment helps socialising
As a result of the global pandemic, we were forced to communicate to one another through digital means, this provided evidence for many companies that working remotely was not a myth and that it is possible for employees to work from home.
However, working from home full time proved to be exhausting for many working adults as social interactions were erased from their day-to-day routines. They also faced distractions from their children and spouses or partners and the lack of movement from staying in the home office, living room or bedroom took a toll on their physical health.
This is one of the many reasons why hybrid office working is beneficial and preferred by employees, as they receive the best of both worlds. Working from home 2 to 3 times a week and commuting to the office for the remaining days.
Advantages and disadvantages of remote working
Remote working may seem to have an endless list of benefits, however there are also disadvantages that come with working from home. A few examples below explore both the pros and cons of working from home:
Advantages of working from home
• More independence
• Less expenses
• Increased productivity
• Improved communication skills
• More work flexibility
• No office distractions
• Collaborate across locations

Disadvantages of working from home
• Increased isolation
• Home office costs
• Risk of overworking
• Risk to productivity
• Distractions at home
• Workplace disconnects
• Disproportionate work-life balance
How much you should spend to create hybrid office
With 88% of business leaders in agreement of hybrid working being the future for their employees, this sets out a positive outlook for a hybrid work environment – but what will the costs be to convert your existing space into a functional hybrid office?
The exact costs or even a ballpark figure would be difficult to calculate without a clear brief, many of our clients have approach us with briefs of different sizes – some with the intention of halving their desking space and other looking to cut down only a quarter of their desking space.
With a variety of functional spaces from break out areas to collaborative areas that include meeting pods, soft seating and phone booths. The best way to measure costs of transforming an existing office space into a hybrid working environment would be through requesting quotations from an interior fit-out company or using our cost calculator
Why you should hire a professional team to create hybrid workplace
Converting your office space into a hybrid workplace can be challenging and full of unwanted surprises. Hiring a professional team to help you create this would allow you to focus on your business and keep your mind at ease – you may be asking; how would we ensure this?
Our first step to executing a successful fit-out project is setting out a clear brief with our client, conducting site visits and client meetings to discuss the scope of works and what is to be expected at project completion.
We provide 2D floorplans and 3D visualisations where necessary for visual communication purposes, keeping us and our client on the same page at all stages of the fit-out project. A project manager is always assigned to each one of our projects to ensure works are on schedule and our clients are kept up to date.