Laconic Interior Design for Your Office — Style and Nothing More
3 years ago
2 minutes
in Blog
Variety is a very important aspect in office design style and layouts. Dedicated individual desks are being cleared out. More preference is being given to cosy, quiet distraction-free corners in offices. The most elegant office designs come with laconic elements, making your office classy and stylish.
Laconic interior design offers a minimalist feel to your office space. This, in addition to natural elements of light and air, would make it a perfect environment to work in. Hints of natural comfort would boost productivity as well. This would also speak volumes about your company.
A great way to incorporate a laconic style is to use natural elements like stone or wood, along with neutral tones. This gives your office space a very professional look.
A concise selection of office furniture can create a comfortable and sleek environment as well. This also prevents overloading the office with unnecessary elements. Grey glossy facades are a great way to keep a neutral tone and also have a spacious feel around the office.
Make sure to have lots of natural light and air circulation around. If you are in search of options to make a minimalist environment for your office, you might want to consider adding glass partitions. These could give a sleek, aesthetic look.
Glass partitions give your office a professional look. It makes your office sleek and pleasant to look at, creating a great impression on clients and employees alike. There are soundproof options in glass that you can use to make a cosy environment for your employees. This gives a peaceful and focused environment to work. These are extremely easy to maintain and can be cleaned with the help of mild detergents and water. This eliminates the risk of termites and other insects that could decay partitions, in the case of wooden partitions.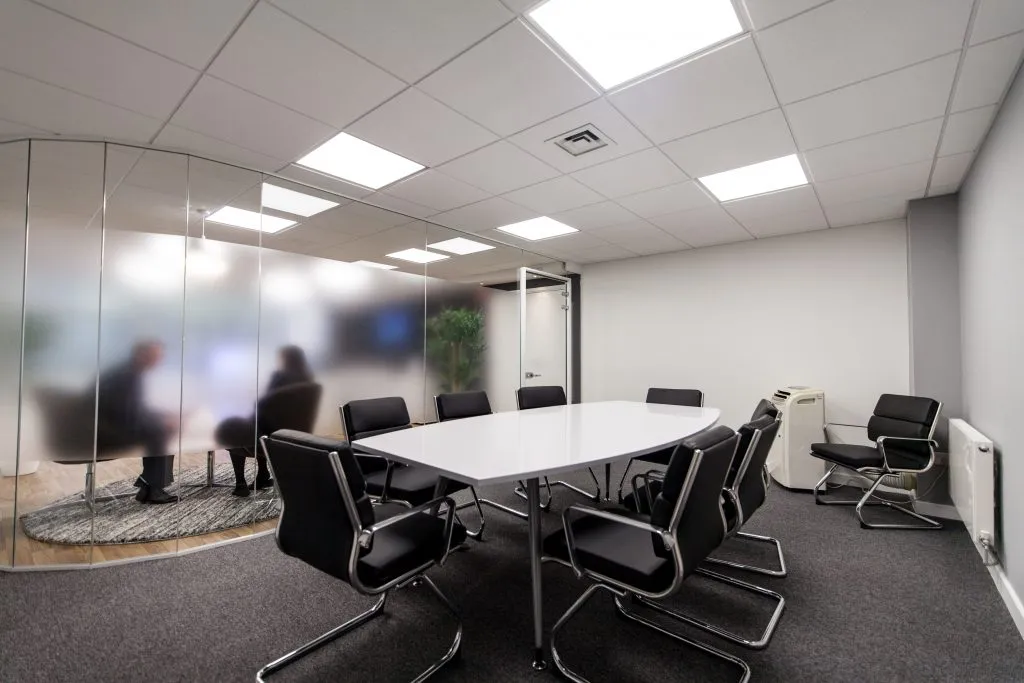 Glass partitions are available in a number of colours and textures. This offers you the creative license to choose one that goes well with your office theme and decor. They are easy to maintain, and cost-effective since they do not require constant upgrades. You can easily remount them and change placement if you are looking to expand your office space, or trying out a new layout. You can try patterned glass, frosted or milky glass or even plain glass with your company logo embossed for a better laconic look.
A minimalist setting greatly improves the functionality and productivity of office spaces. Be sure that your office design style is such that it can inspire employees to achieve better output, collaborate on their projects and so on. They should not have to face distractions during work. This can increase the aesthetics and durability of your office, making it a welcome, warm workplace. So make sure to incorporate minimal, natural elements in your design.
Adopt shades that are the perfect blend of professional and comfortable. Also allow enough natural light for productivity, as well as to manage the power bill.
Pictures: www.unsplash.com, www.pixabay.com, Kova Interiors